10 Benefits of Helping Others
"Be helpful.  If you see a person without a smile, give him one of yours." –Zig Ziglar
Volunteering your time, money, or energy to help others doesn't just make the world better – it also makes you better.  Studies indicate that the very act of giving back to the community boosts your happiness, health, and sense of well-being.
Here are 10 benefits of lending a helping hand. 
1. Helping others feels good.  There is some evidence to suggest that when you help others, it can promote physiological changes in the brain linked with happiness.  This heightened sense of well-being might be the byproduct of being more physically active as a result of volunteering, or because it makes us more socially active.
2. It creates a sense of belonging.  Helping others can help us to make new friends and connect with our community.  Face-to-face activities such as volunteering at a food bank can also help reduce loneliness and isolation.
3. It gives you a sense of purpose.  Studies show that volunteering enhances an individual's overall sense of purpose and identity.  This is because helping others can make you feel rewarded, fulfilled and empowered.
4. Giving helps keep things in perspective.  Helping others, especially those who are less fortunate than yourself, can help to put things into perspective and make you feel more positive about your own circumstances.
5. It's contagious.  One study found that people are more likely to perform feats of generosity after observing another do the same.  This effect can ripple throughout the community, inspiring dozens of individuals to make a difference.
6. Helping others can help you live longer.  Regular volunteering can improve your ability to manage stress and stave off disease as well as increasing your sense of life satisfaction.  This might be because volunteering alleviates loneliness and enhances our social lives.
7. It will give you a sense of renewal.  Helping others can teach you to help yourself.  If you've been through a tough experience or just have a case of the blues, the "activism cure" is a great way get back to feeling like yourself.
8. You'll boost your self-esteem.  People who volunteer have been found to have higher self-esteem and overall wellbeing.  The benefits of volunteering also depend on your consistency.  So, the more regularly you volunteer, the more confidence you'll gain.
9. You'll create stronger friendships.  When you help others, you give off positive vibes, which can rub off on peers and improve your friendships.  Being a force for good in a friend's life can help build a lasting bond.
10. You become a glass half-full type person.  Having a positive impact on someone else could help you change your own outlook and attitude.  Experts say that performing acts of kindness boosts your mood and ultimately makes you more optimistic and positive.
Who can you serve?  What can you do to lend a helping hand today?  Chances are you don't have to look far to find someone in need.  Be on the active lookout for ways and people you can help, as it all starts with embracing a service-oriented mindset.
Change That Up!
August 14, 2020
Good morning.
In the wild west wagons would circle to provide protection from attackers.  If there is one thing that's been very obvious is that big companies are circling the wagons amidst a recession to maintain their position.
Apple's deletion of the game "Fortnite" from their app store is another example of this as they may be a suitor for TikTok.  Epic Games is filing suit but today, the small guy doesn't come out ahead. In a silver lining to this story, weekly unemployment claims did come out with the first print less than 1 million since all of the insanity began.  It's coming at a crossroads as the S&P tries for the second day in a row to reach a new all-time high.
Here's the rest of the story: Thinking Outside the Box
Surely you've heard the phrase "think outside the box"; perhaps you've even said it yourself a time or two.  After all, it's one of the most well-worn phrases not just in the business world but throughout the realm of real life.
Speaking generally, it means to think differently, unconventionally or from a fresh, different perspective.  The saying is an attempt to inspire (and accept) free, creative thinking.  While we rely heavily on computers, algorithms and neural networks for so much, those very tools would only be a figment of our imagination had there been no "outside-the-box" thinking.
The origin of "thinking outside the box", according to many, traces back to the 1960s and the use of the "9 dots" puzzle, which was originally published in 1914 in a book called the Cyclopedia of Puzzles by Sam Lloyd.  The puzzle consisted of the following diagram and the instructions: Link all 9 dots using four straight lines or fewer, without lifting the pen and without tracing the same line more than once.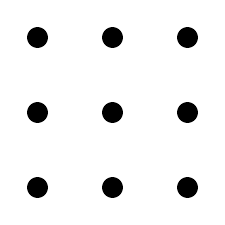 Go ahead and print that out — probably a few times — and give it a try.  We'll wait right here for you.  What you'll eventually find (one common solution is found below) is that you're going to have to think "outside the box" to come up with a solution.
Even though there's no instruction to stay within the box, most minds immediately tend to build a box, which instantly puts a constraint in place.  Thinking outside the box, meanwhile, removes as many constraints as possible — leading to the most original and innovative solutions.
Thinking outside the box is an incredibly powerful and useful tool; however, it can be a bit scary.  After all, it tends to be a bit safer to err on the side of conventional wisdom.  The reality, however, is that outside-the-box thinking is a powerful key that can open countless doors:
It allows you to generate more possibilities.
It forces you to ask questions (i.e., question the status quo)
It helps you step outside your comfort zone.
It inspires others, helping them step out of their comfort zone.
It creates tremendous learning opportunities.
It opens doors to unforeseen results.
It allows you to stand out from the crowd.
It inspires critical thinking skills.
If you tend to struggle with outside-the-box thinking, the next time you're faced with a problem, approach it from a different perspective.  There's more than one way from point A to point B.  Think wide, think differently, or maybe, don't think at all.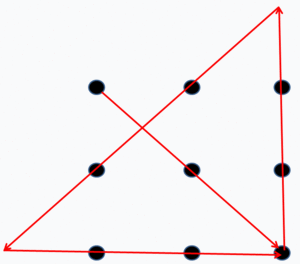 To You!!!
August 14, 2019
Kenny Santos lives in Toronto, Ontario.
Both Kenny and I are storytellers, Kenny admittedly, much better!  This story is about Kenny's son, and told by Kenny.
There is an old saying.  Beauty is in the eye of the beholder.  The saying teaches us so much about fun, talent and success.  Allow me to explain.
Happy
My son is a goofball.  He takes pride in being the weird one.  He isn't too shy about showing a new dance move or singing a song that he has been working on.  He doesn't seem to feel the need to impress others or worry what other people think.  As a result, he seems to have a lot of friends.
Lately, he has been singing a parody of a hit 80s song.  The song is called Take On Me by Aha and the parody is called Mine Diamonds.  If you recognize the song you'll know that it's not easy to sing.  There are a lot of high parts and most people can't pull it off.  My son is among those and he happily lets his voice crack when  sings the parody.  He expressed to me that he would like to make a video of him singing the song.  I was a little bit reluctant at first but I eventually let him do it.
He sang the song outside so the neighbours could hear.  Truthfully, I was a little bit embarrassed and I hoped that the neighbours couldn't hear and that it would be over soon.  When my son sang, he didn't hold back.  He belted out the lyrics as loud as he could so any hopes that my son's singing would go unnoticed were crushed.
When he was done, my next door neighbour complimented my son and my son smiled proudly.  My son was so proud of the video and was so happy to show it to others.  He showed it to his uncles and his grandparents.  He even asked me to upload the video on to Facebook and YouTube so he could share the video with others.  It was fascinating to see how happy a simple video made my son feel.
Be You
This taught me a lot.  In making this video my son reminded me that your true happiness is defined by you.  If you think something is fun, then do it!  Don't worry what others may think.  The same goes for talent and success.  My son didn't worry what others thought.  He was just happy to do what he loves and he didn't worry if others thought he was foolish.
If you let someone else define what happiness is for you then you will never be truly happy.  If you try to get through life by fitting into someone else's definition of success then you will never be truly successful.
Happiness and success starts with how you define them.  Not anyone else.
Did this help you?  …it brought happiness to me… 🙂
August 14, 2017
The Purpose of Your Business [A Reminder]
Always keep the purpose of your business in mind.  Never forget why you're doing this.  Surprisingly, many business owners forget this [or never accept it in the first place].  But here's the secret:
At the end of the day, you're in business to create financial freedom.
I hear business gurus espousing their flowery "feel good" advice about the purpose of starting a business, and I just roll my eyes.  Some will even say how they are only in business to "help people."
So, do you focus on making money, or helping people?  It doesn't have to be one or the other; it can be both.  You can make money through helping people.  As Zig Ziglar says; "You can have everything in life you want, if you will just help other people get what they want."
REW